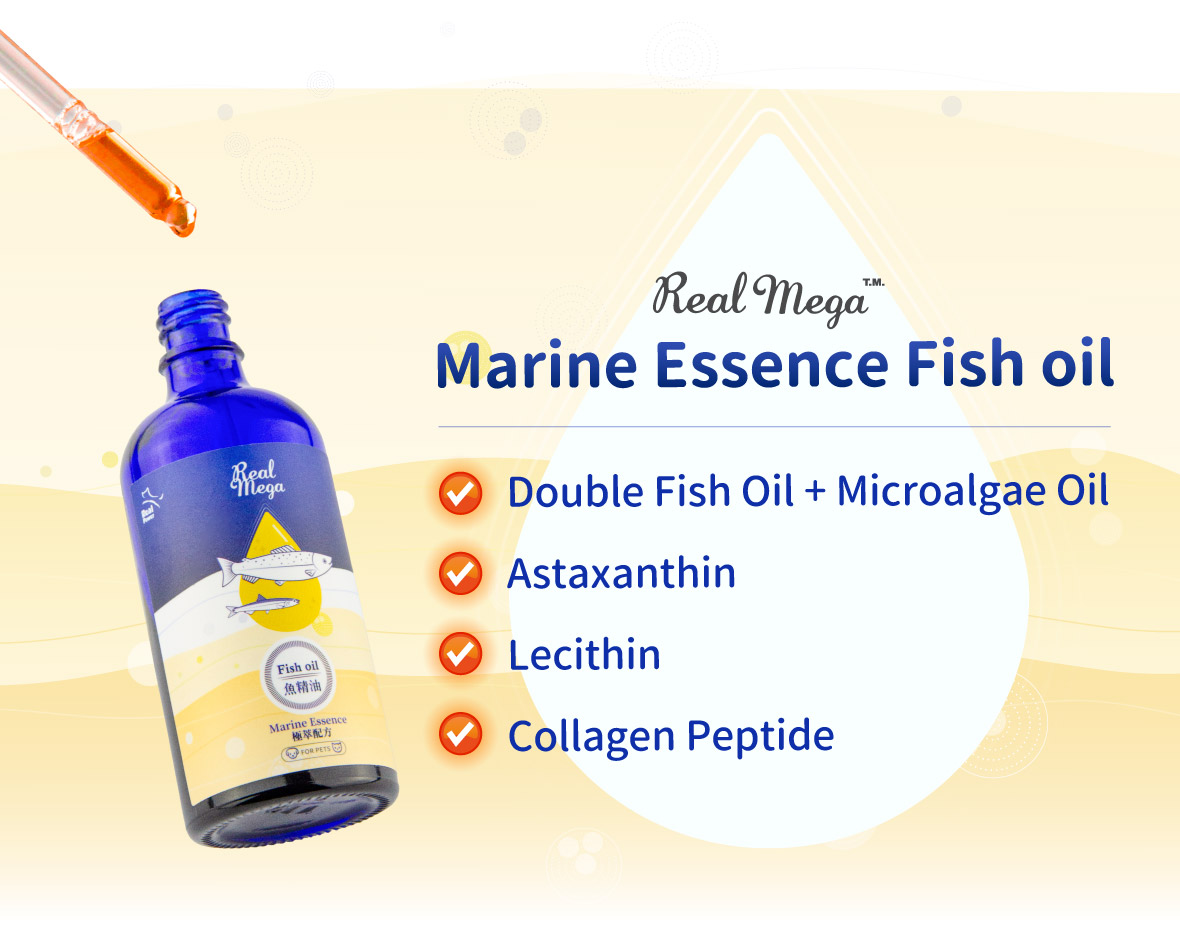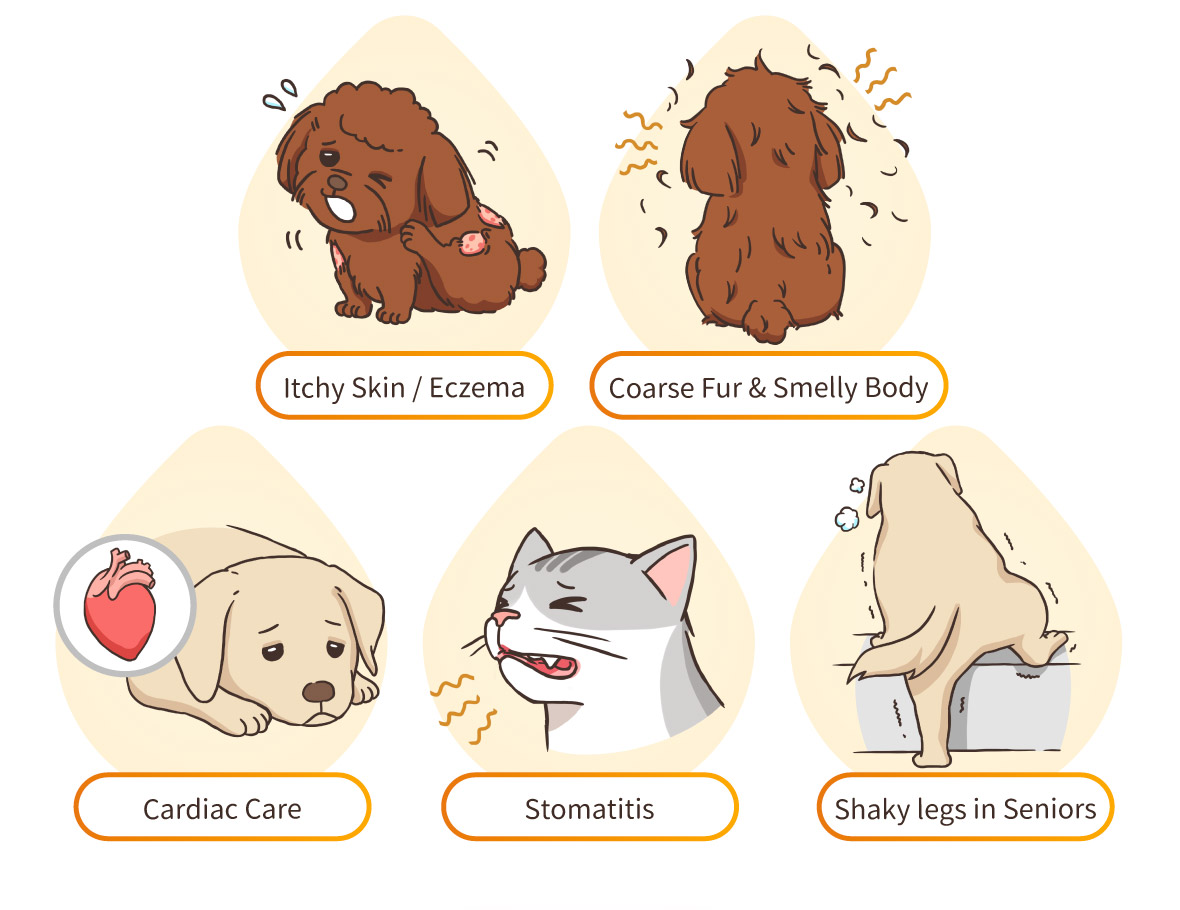 Especially selected by RealPower
Haematococcus pluvialis from the Iceland is the purest source of Astaxanthin

The antioxidant capacity of Astaxanthin is 100 times more than vitamin E,
and 6000 times more than vitamin C!
Effectively help fight against the free radicals damage to pets.


Double fish oil complex formula
The Omega-3 level of Real Mega Fish Oil daily portion
Equals to 110g of salmon! (5kg small breed adult dog as example)


It is proven scientifically that
Hydrolyzed Lecithin can promote the absorption of unsaturated fatty acids!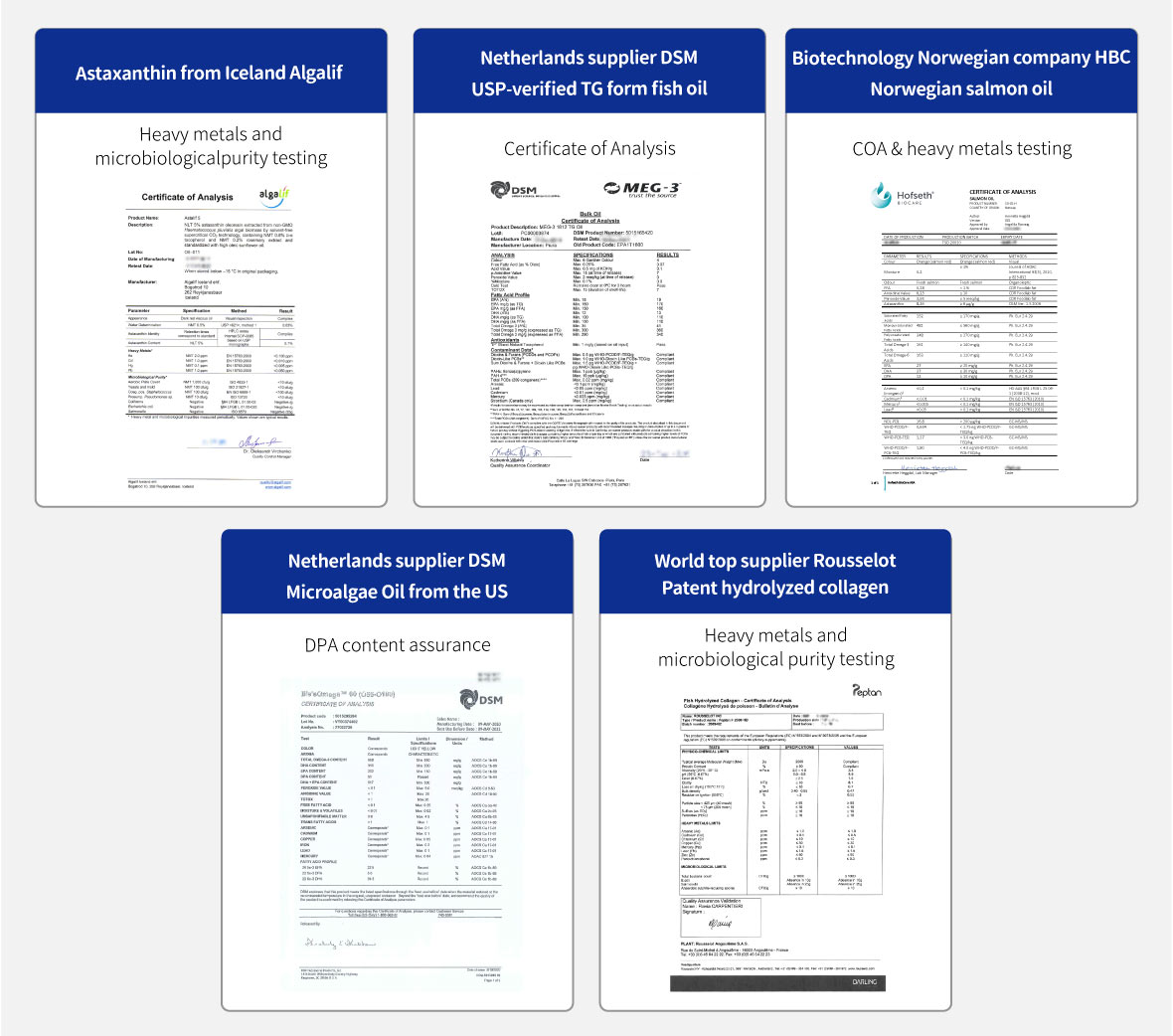 I have been searching fish oil with excellent palatability and support skin health for my picky Shiba Inu. After continuous suppling of Real Mega fish oil, his skin condition has become stable and no more itchiness! The most important thing is there is no horrible fishy smell, but a nice smell of natural salmon. Real Mage fish oil become my must-add for my dog's daily diets!
My cat Bibo is on fresh petfood, so supplements are needed. There are tons of supplements has already been thrown away because of my picky cat. But after I gave him Real Mega fish oil, he is happy to eat and finish every drips! I noticed his fur become shiner after a month, and no more tear stains during the season changing. So happy to meet Real Mega fish oil!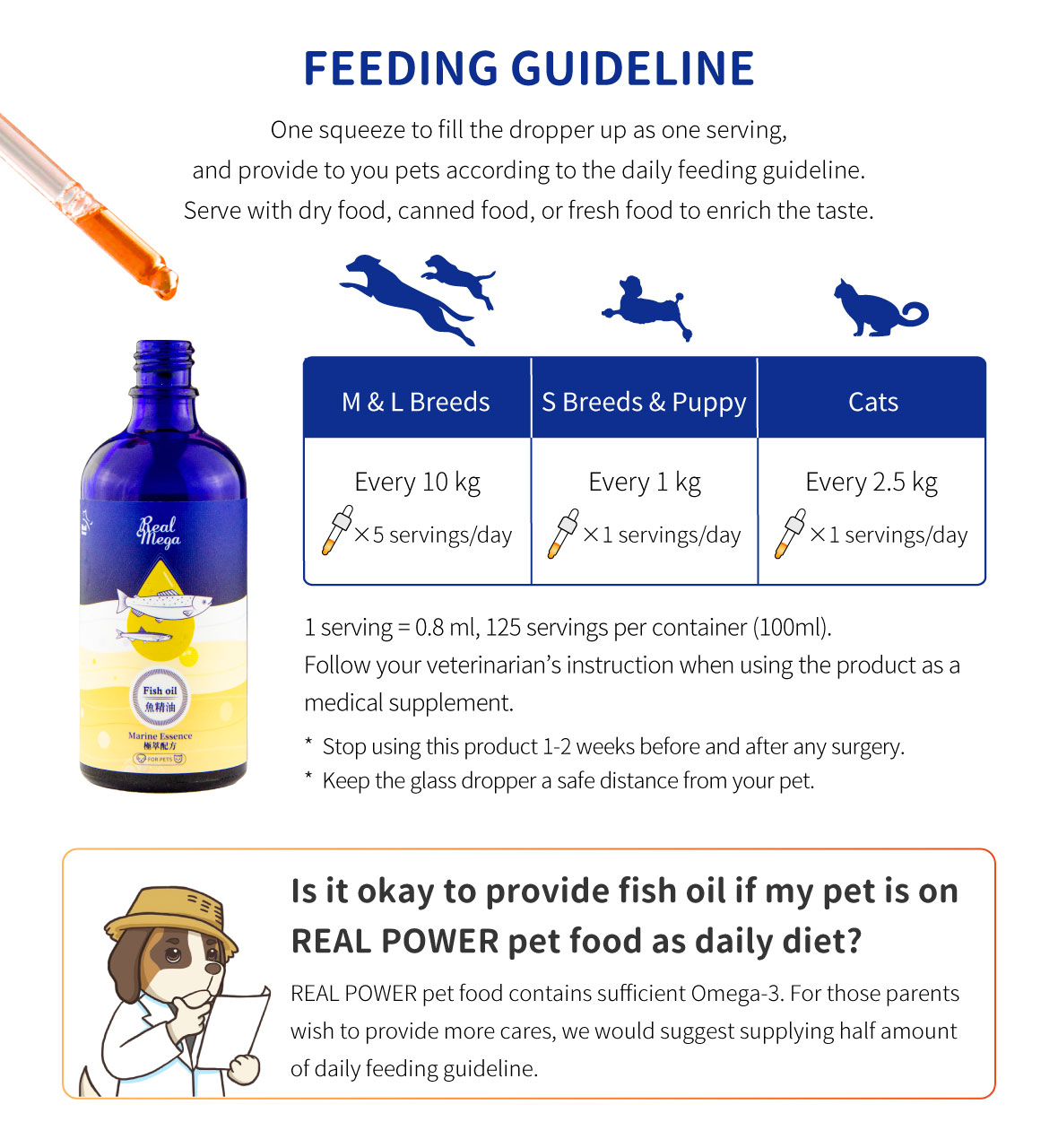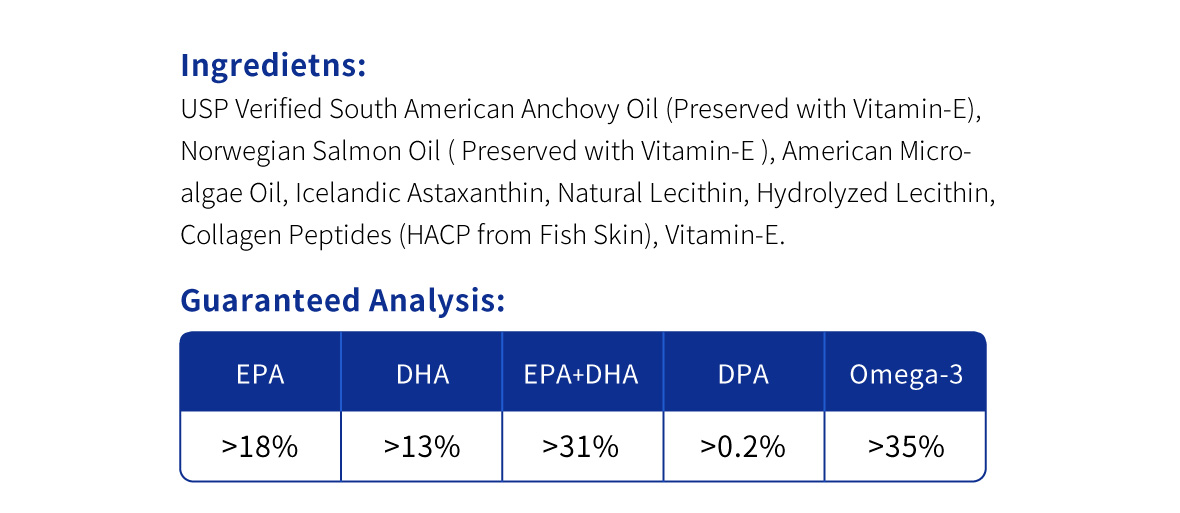 Q1. Do I need to add if my pet is eating REAL POWER?

A1. REAL POWER pet food contains sufficient Omega-3. For those parents wish to provide more cares, we would suggest supplying half amount of daily feeding guideline. Welcome contact us for any questions or special condition.

Q2. What is the source of Astaxanthin you use?

A2. REAL POWER selects Haematococcus pluvialis to use in our fish oil. The Astaxanthin amount that can be extracted from Haematococcus pluvialis is higher than krill and is purer as well. We do not use krill-source Astaxanthin to protect our environment while caring our pets.   

Q3. What's the difference between Real Mega #MarineEssenceFishOil and general fish oil?

1. Using double fish oil complex formula with specific DHA & EPA ratio, it provides an excellent percentage for tropical and subtropical dogs and cats.
2. Few pets fish oil that guarantee DPA amount in the market. It is proven that DPA can help reduce platelet agglutination, support fat oxidation, and able to relieve chronic inflammation.
3. Using Astaxanthin and Vitamin-E as double natural antioxidants, which can prevent oxidation of oil and provide synergistic effect with fish oil.
4. Lecithin is natural emulsifier, which can help improve fish oil absorption, and reduce loose stool or diarrhea caused by too much oil intake. Furthermore, the lecithin selected by REAL POWER has higher effectiveness than general one.

Product includes
☆ Real Mega Fish Oil - Marine Essence 100 ml x1 bottle
Durable Life
☆ 18 Months
Storage Method
☆ Store in a cool dry place, and finish within 60 days after open.
Best Before Date
☆ Printed on the box.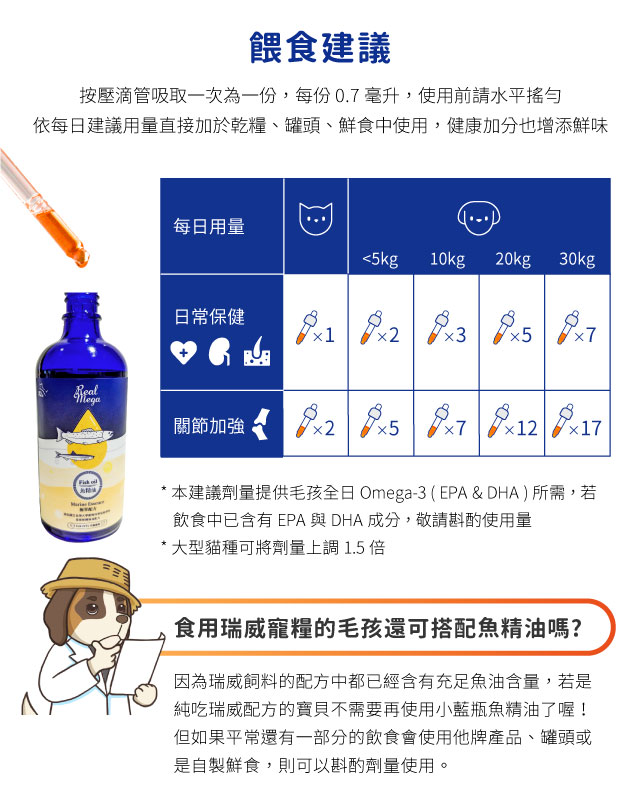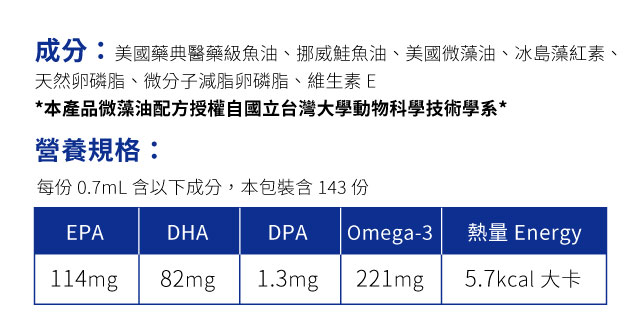 Q1. 瑞威 #小藍瓶魚精油 跟一般常見魚油有什麼差別?

1. 使用三種油複方:雙魚油+國立臺灣大學技轉藻油,提供充足EPA+DHA基底,調和比例適合亞熱帶犬貓。
2. 市售少數保證DPA含量之寵物魚油,DPA被發現可幫助降低血小板凝集、增進脂肪代謝、且有緩解慢性發炎的功能。
3. 採用藻紅素及維生素E,雙重天然抗氧化,防止油脂酸化,並與魚油協同作用。
4. 卵磷脂是天然乳化劑,可以幫助乳化脂肪、更經過實驗證實可以幫助脂肪吸收。 #小藍瓶魚精油 除了一般的大豆卵磷脂外,另加入了「微分子減脂卵磷脂」。「微分子減脂卵磷脂」可以讓油脂在腸道乳糜化的效果更好,營養不浪費!

Q2. 什麼是臺大技轉?

A. 國立臺灣大學「技術移轉」,簡稱「技轉」,是瑞威團隊經過國立臺灣大學的授權,將動物科學技術學系教授研究證實可以改善皮膚狀況的配方使用在小藍瓶魚精油中。

Q3. 藻紅素來源?

A. 瑞威特選 雨生紅球藻,萃取出的藻紅素量更多也更純,不選用磷蝦來源,保護毛孩也保護環境。                    

本產品包含:
☆ Real Mega魚精油-極萃配方 100ml 一瓶。
保存期限:
☆ 18個月。
保存方式:
☆ 請置於陰涼乾燥處,開封後請於60天內使用完畢。
有效日期:
☆ 標示包裝上。